Garage Workbenches and Tool Storage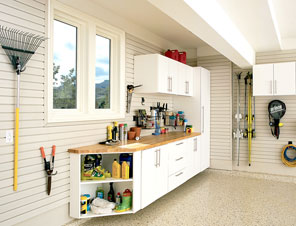 The Garage Envy Premier Workbenches for your garage, workshop, or basement work area are high quality workbenches designed with custom tool storage options to give you many years of practical use. It does not matter if you are looking for a large workbench that could double as your office, or a tool work area to tinker on occasion, Garage Envy has a storage solution right for you.
Available in Stainless Steel, Aluminum, Steel, Maple Butcher Block tops and many options of color, design, size, and work top selections.
Garage workbenches should be more than just a convenient place to store tools and to play with weekend projects. At Garage Envy, we believe that garage workbenches should be an organized place for work and play with storage space for tools and accessories and an area of the garage to take pride in.
Our garage workbenches aren't just for show though – they are constructed of heavy duty materials built to last. We top many workbenches with maple butcher block work areas and other workbenches with stainless steel, special treated wood laminates, or steel. We design the most durable garage workbenches available on the market today. Garage Envy workbenches can be portable workspaces equipped with heavy-duty steel legs and locking casters, so you can roll your work outside or stationary units incorporated into the main storage cabinets. We also construct our garage workbenches to fit your individual specified dimensions and lifestyle.
We know firsthand the value of garage workbenches. Having everything you need at your fingertips is an absolute necessity for working with tools, hobby supplies, screws, pins and other items. Finding the right storage unit can be a futile search when going from one home improvement store to another. The solution -- let Garage Envy come to you.
At Garage Envy, all our installation professionals are highly skilled and trained to make the most of your usable garage storage space. We will custom design your workbenches and storage units to put everything you need within easy reach. Whether you need drawers, shelves, or space for hanging supplies, we will create the optimal unit for you.
Garage Tool Storage options are often a hard-fit--in other words, there is little or no flexibility in the design of how the units are mounted or any options. Garage Envy, are national leaders in garage storage designs and offer a large variety of configurations, as well as the ability to reconfigure them at any time. Our slat wall –Wallscape storage system provides wall mounted hooks, racks, shelves and baskets for hanging rakes, shovels , and accessories that can be moved or adjusted to accommodate your needs in just a matter of seconds.
All Garage Envy Tool Storage accessories can be integrated with our workbenches thus providing true custom storage configurations. The Garage Envy tool and storage accessories can be easily added to our wall units to accommodate small tools such as pliers and screwdrivers. You can individualize your tool storage organization by changing hooks, shelves, brackets, and baskets to match all of your needs.
Call our local or National office to contact a consultant in your area.