Stainless Steel Garage Storage Cabinets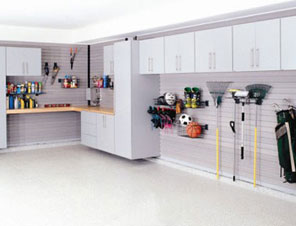 Timeless Storage beauty
Stainless steel cabinets are the perfect storage cabinets for your remodeled or updated garage. If you demand style, beauty, durability, low maintenance, and a hygienically safe storage surface then, stainless steel cabinets are a great choice.
Garage Envy uses stainless steel storage cabinets for many of our premium garage renovations throughout Southern California. The main reason is that they are extremely strong and durable making them last for many years. As stainless steel cabinets age they maintain their original appearance and continue to provide outstanding expandable storage abilities.
Stainless steel garage storage cabinets are available online at garage envy and can be installed by you the home owner as a "Do it yourself project". Available in most standard cabinet sizes as standalone cabinets or as a value product kit complete with all hardware, hinges, drawer pulls, shelves, and screws. Check out our online stainless steel cabinet selection, you will find quite a variety of models, designs and sizes.
If you are designing and planning your own garage renovation the storage cabinet design for your garage should take into account application and costs. A design consideration for all new garage storage cabinets are shelves, cabinets with drawers, cabinets with bins, built-in workbench area, possible overhead storage racks, wall storage such as slatwall storage accessories, and the garage flooring.
Here are some of the benefits of using stainless steel storage cabinets in your garage:
Offers a stylish and unique contemporary look and feel
The stainless steel look works with other storage and work area products.
The stainless steel cabinets require very little maintenance
They are easy for a home owner to install
Available as online value packs in standard sizes, designs, and models
Stainless steel cabinets are durable and don't rust or corrode
Secured positive equity bearing home investment
Clean dust free storage space
No repainting is ever required
Easy cleanup - a wet cloths is all it takes to clean the cabinets
Scratch repair is very easy to repair without refinishing all the cabinets
On Garage Envy.com you will find information that will help you select the best cabinets for your garage or home workshop. You will find storage cabinets and accessories made of steel, wood, resin, and stainless steel.
Garage Envy designs custom stainless steel workbenches with unique tops and storage elements for the most discriminating of customers. We specialize in designing storage features individual to each of our customers. All of our stainless steel garage storage cabinets are a unique effort created for you.
In addition to stainless steel storage cabinets Garage Envy offers premium overhead garage storage products including garage storage cabinets, wall organizers, workbenches, garage flooring and many other garage products and solutions..
Check out our many other garage storage products at Garage Envy
Take advantage of our free consultation please call our local or National office to contact a consultant in your area.