Tool Storage Cabinets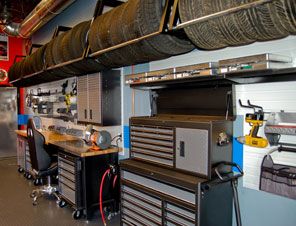 Garage Envy are leaders in tool storage designs that offer a variety of configurations, as well as the ability to reconfigure them at any time. We provide tool storage solutions that will help you truly get organized. We feature integrated tool storage solutions with our workbenches, storage cabinets, tool boxes, tool Chests, Industrial tool storage, Garden tool storage, and tool accessories.
Most homes need an organized place for their tool storage in the garage. Tools are often large, heavy and are uniquely shaped making it hard to find a usable storage solution. Home and Garden tools such as shovels, picks and rakes, are often left piled around the garage in no particular order. Organization for your tools is important to avoid a safety hazard, and just be able to find the tools you need.
Our quality tool storage cabinets make a difference for your work or play environment.
All Garage Envy tool storage cabinets are built to last, being constructed to a one-inch thickness with a solid back. This type of cabinet construction allows you to place our cabinets on cinder block, bare stud walls, or on rough standard drywall. Our tool storage cabinets can also withstand the storage of heavy materials, such as bulk bags of pet food. Our premium storage cabinets are available in a variety of stylish finishes, such as hardrock maple, brushed aluminum, grey, black, white and many more.
Our organized garage tool storage accessories can be easily added to our wall units to accommodate small tools such as pliers and screwdrivers. You can easily mix our tool storage accessories to create just the right tool storage layout you need for all your projects.
Garage Envy offers a slatwall storage system that is designed specifically for all those hard to store things like, garden tools, surf boards, bicycles and has unlimited options of hooks, shelves and containers to store everything from screwdrivers to drills, nails and screws. With our system, it's quick and easy to rearrange the slatwall and tool storage configuration to accommodate the addition of tools of any size or weight. Our cabinets are designed from strong durable materials which are weather-resistant and provide protection for all of your tools.
We have designed our tool storage cabinets and workbenches to fit with our wall units.
Our tool cabinets have solid backs, preventing tools from slipping behind the surface. Cabinets can be mounted to all most types of garage walls drywall, slatwall, plaster and most finished or unfinished walls.
Garage Envy also offers the option of rolling tool storage cabinets with heavy duty casters and a lot of storage allowing you to take your tools outdoors, or simply move them around the garage for use anywhere.
Organized Tool storage cabinets will make a big difference in the appearance and overall efficiency of your garage, especially in terms of your workspace.
If you are looking for premium tool storage cabinets Checkout our tool storage cabinets online and see the difference a Garage Envy storage system can make in your garage. We ship anywhere in North America, so in just a few days you'll have a garage you'll be proud to show off.