Garage Epoxy Flooring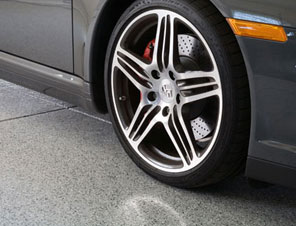 Liquid Granite
Garage Envy designs and installs beautiful, long lasting custom Garage Epoxy Flooring Solutions. Our most popular garage flooring solution is an epoxy coating named Liquid Granite used exclusively by Garage Envy and commercial home builders.
Liquid Granite is a multilayer application of a hybrid polymer floor coating which combines vapor barrier components, epoxy coatings, vinyl chips and polyurea sealants, into the most complete floor coating system in the industry. The look of real granite is achieved by the use of paint chips spread between a solid base color and multiple clear coats of epoxy. The paint chips create a natural "granite" look that not only looks great it hides minor floor blemishes and provides a non-skid surface.
Floor Maintenance for the liquid granite and all our epoxy floor treatments is very easy. Most dirt and residues simply won't stick to the chemically resistant garage floor coating making your floor resistant to oils, gasoline, paints and other items that are so often the demise of a clean garage.
Why Choose Epoxy?
Here are some good reasons why selecting a liquid granite epoxy garage floor is a good choice to make.
Cost Efficiency
Productivity
Appearance
Safety
Epoxy liquid granite flooring for your garage is an affordable very low maintenance, wear resistant and attractive choice for any garage floor.
In addition to epoxy and tile flooring solutions Garage Envy offers premium overhead garage storage products including garage storage cabinets, wall organizers, workbenches, garage flooring and many other garage products and solutions.
Do you have an existing garage floor you want to cover? Garage Envy offers complete professional installations of our liquid granite epoxy flooring systems for all residential or commercial applications in Southern California. Additionally, we have "Do it yourself' packages for any inspired home owner. Contact us today for a free consultation.