Garage Storage Solutions for your Home or Workshop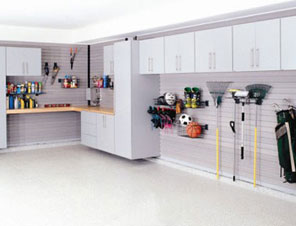 Are you considering renovating your garage or workshop? The main reason expressed by most home owners considering a garage storage solution is to maximize storage capacity and create organization. Everybody needs to have a place for everything …the main goal being the elimination of garage clutter once and for all.
Garage Envy is a recognized leader in garage storage and organization solutions. One area that sets us apart from our competitors is the quality of our products. Our garage storage cabinets are designed to provide heavy storage capacity than the standard cabinets found in most home improvement stores which are often designed for in home.
We offer a wide range of garage cabinets to select from ranging from Aluminum Storage Cabinets, Stainless Steel Cabinets, Wood Cabinets and a more affordable line of resin garage storage cabinets all are made of weather-resistant material to withstand harsh winter cold or summer heat. Pests, dirt, and moisture are no problem for our organization systems.
Are you one of the many homeowners looking for garage storage solutions to the stack of boxes, tools you can't find, or simply a place to work in your garage?
With a garage or workshop makeover, you can have instant storage for everything from bicycles, to garden equipment, and.. your car.
At Garage Envy, we can help you achieve all of your goals. We're a Southern California-based company recognized as a pioneer in the garage storage industry. We are considered one of the leading manufacturers of garage storage and organization systems, serving not just California but homeowners across the U. S. Our storage solutions are innovative and designed to improve storage space and functionality of the garage.
Whether it's wall storage cabinets for your tools, stain-resistant epoxy flooring of Liquid Granite, or a butcher block workbench, we have an affordable solution to your garage storage and organization needs.
If you are a home builder, contractor, do garage and home remodels then we're especially glad you've found our website. We would like to make our products and services available to Your Clients.
Check out our Partner program by clicking - Partner Program
Please checkout our website and become familiar with our products. For questions please contact us by clicking -learn more. You may also feel free to visit or contact a local Garage Envy office near you.