Premium Garage Storage Cabinets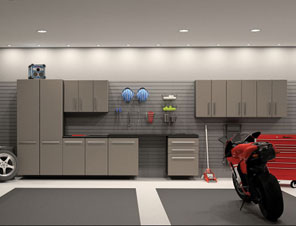 How to Get Rid of Your Garage Clutter with Increased Storage.
Today, most homeowners can use extra garage storage space. With a large majority of garages in some form of disarray utilizing premium garage storage cabinets is a great way to get your clutter under control and expand your usable storage space.
Garage storage cabinets provide a place to organize and store your tools, such as sports equipment, gardening implements, tools, and other toys for outdoor games. Many things in your garage are not used regularly, but they do need to be organized and stored so you know where they are and can be retrieved easily. Garage cabinets provide extra storage space for storing all such things and much more. Everybody needs to have a place for everything the main goal of storage cabinets being the elimination of garage clutter and getting everything off the floor ..once and for all.
The idea of refitting a garage with storage cabinets brings up the important element of cost. Storage cabinets do not have to cost a fortune and can easily be installed yourself with a few simple tools. Garage storage cabinets designed for DIY (Do It Yourself ) installation are available in standard sizes and modular by construction, meaning you can select from a number of standard sizes (modules) to suit your specific needs. Storage cabinet enclosures are available to hide water heaters, air conditioners, even doors.
Garage Envy has created comprehensive storage solutions designed solely for the garage, starting with our storage systems, cabinetry and workbenches.
Our high quality garage storage cabinets and garage storage solutions are available in different materials, colors, and textures. We offer a wide range of garage cabinets to choose from Aluminum Cabinets, Stainless Steel Cabinets, Wood Cabinets and a more affordable line of DIY Resin storage cabinets.
Quality in our garage storage cabinets starts with the overall construction and design of our cabinets: We use one-inch thick premium grade material to increase the weight capacity of our cabinets and shelves. This construction element allows our customers to store heavy bulky items commonly found in the garage such as dog food, fertilizer bags, and even extra furniture.
Garage Envy Premium cabinets have a solid back to provide ensure uniform structural integrity and to allow the cabinets to be mounted to blemished drywall, open studs or solid block walls.
Our ultra-sleek cabinet designs and superior hardware feature:
Attractive solid stainless-steel designs are standard on all cabinets
Hinges that are six-way adjustable with 110 degree swing and concealed euro-design
Please take some time to view our different options available for your garage renovation project. Get started with your new garage storage and organization today with garage cabinets, garage flooring, wall storage and all Garage Envy related products manufactured and designed specifically for the garage.
Please contact us or email us with any questions … more information