Slatwall and Accessories - Endless Wall Storage Possibilities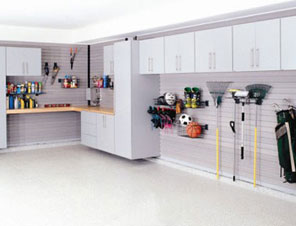 The Slatwall Storage and Accessories System is a patented Garage Envy Wall Storage system known as WallScape™ that allows homeowners to organize and maximize garage space for cars and create organized wall storage for tools, cabinets, equipment, and work areas.
Utilizing a universal wall mounting system and a heavy-duty Polyvinyl Chloride (PVC) composition, WallScape™ transforms walls into complete storage areas. All the horizontal panels can be used to store items such as baskets, shelves, and hooks for hand tools, bikes, sports equipment, lawn and garden equipment, home gym equipment, tires, wheelbarrows, fertilizer and ladders — with cabinets, racks and all your tool accessories.
The Slatwall Wallscape organizers are the answer to getting your clutter off the garage floor. At Garage Envy, we have a flexible wall storage system that is easy to install and use. (We can do it for you, in fact.) With accessories such as baskets, hooks and hangers, any type of item can be stored easily within reach and in an orderly fashion.
Slatwall comes in beautiful colors such as White, Grey, Black, Maple and Taupe. It won't cause damage to your car doors, you will never have to paint slatwall, it's waterproof, fire-resistant, and very strong easy!
At Garage Envy we customize our wall organizers to fit from floor to ceiling with no lost space. When your wall storage needs change, just move a hook or hanger from one location to another on your wall storage system.
With Slatwall storage and accessores you can create a place to store all the junk that is cluttering your garage. From skis to hockey sticks, snowboards and small garden tools, our garage wall organizers offer a place for everything.
We believe your home garage workshop or storage area should be more than just a place to store things. We have helped many homeowners clear away the clutter and renovate their garage into a functional space to work, play and even live in. A key component to this success is garage storage and organization, and we provide the most innovative solutions in the industry. From ceiling racks to tool storage cabinets, workbenches, and slatwall our system of garage organizers can transform your garage into an appealing extension of your home.
If you're looking for premium high quality, durable Slatwalll Storage and Accessories that look as good as they perform, you need look no further.
View our Slatwall and Accessories online and see for yourself the difference a Garage Envy Storage Solutions can make. We ship anywhere in the U.S.A, so in just a few days you'll have a garage you'll be proud to show off.