Making the Most of Your Garage Storage Space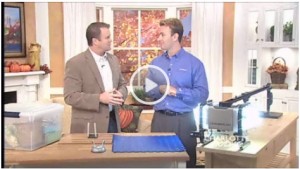 Charlotte Today -WCNC-TV (NBC affiliate) Jaime Dietenofer, co-owner of Garage Envy was a guest on Charlotte Today aired 11/21/11.  His presentation helped position Jaime as a true garage storage and organization expert and his special tips include introducing Chamberlain Garage Door Openers with MyQ Technology.
About Gare Envy
Regardless of which garage storage ideas you finally decide upon, be assured that our garage design specialists have tons of garage remodeling ideas. Stunning cabinets, stylish furniture, evocative artwork, and exceptional entertainment units are all possibilities for your dream garage makeover. Let your imagination run free and you'll develop your own garage remodeling ideas to complement your hobbies, your lifestyle, your artistic talents, or your inner child.