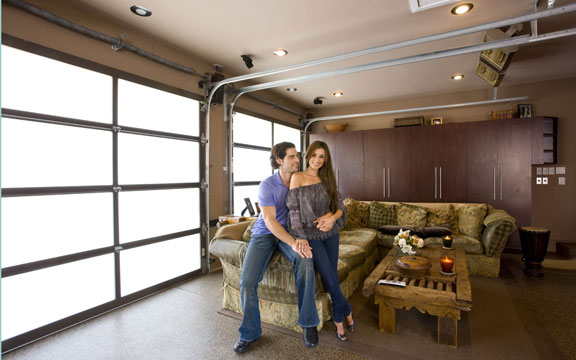 Why pass out in your garage after a long night of fun with your buddies when you can create your own garage man cave for pennies?
For the most part going out in your garage with your buddies and having a few drinks ends with Billy throwing Jeff down on the dirty concrete and somebody going home with a bloody lip and sore ego. Why not fix up your garage and create your own Garage Sanctuary for you and your pals to throw down in style? Garage Conversions are the hottest home improvement sector since closets came along 20 years ago. Your wife has already claimed her domain, everything else, why not set yourself up with an environment that is virtually indestructible and a great place to relax. Who knows your wife might even come visit you once in awhile out in the garage if it doesn't look and smell like Spot's arse. Check out the pic above of a recent conversion GarageEnvy.com did for this couple. It started out like every other garage you've seen, and ended up being the nicest room in the house.
Men unite and take back a little piece of your dignity and create your own room.