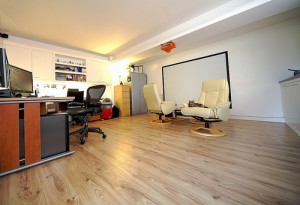 With internet marketing, social media and telecommuting on the rise, more of us need to have the space in our home for that office away from the office. In other words a home office. But if you're like most, space is a real challenge. So how about using the garage? 400 square feet of office space! How cool is that?
Join us this Friday when DIY's Garage Mahal and the Garage Envy experts makeover their next garage into the perfect work space for our clients Jarett and Tien.
Jarrett and Tien Brunelle have a common problem, they want a home office but don't have extra room and their garage is nothing more than a storage bin. Goldberg and the Garage Mahal team transform this wasted space into a modern work oasis. Projects include a custom two person desk connected to a wrap around counter and storage system, a loft to make use of the high ceiling, and a comfortable meeting area.
July 02, 20109:30 PM e/p
July 02, 201012:30 AM e/p
July 03, 20105:00 PM e/p
August 21, 20104:30 PM e/p