Goldberg Garage Storage Systems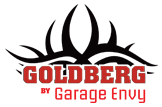 At last, An Extraordinary Quality Storage System That Can Take What Life Has In Store.
Get customized garage storage & shelving to fit your garage design.
This is what you have been waiting for.
Premium Goldberg Cabinets by Garage Envy
It's no longer just a "catch-all" for all of the unwanted items in your home. Your garage holds the promise of becoming so much more. With the wildly reconfigurable GOLDBERG storage system, you'll have the ability to easily transform your existing space. You can now reclaim your garage with a premier cabinetry system designed specifically for homeowners and owners of recreational properties. For those interested in creating a space that's not only functional but super comfortable to spend time in, the time has come. Whether a space for your hobbies, a place to hang with your friends or a sweet escape, the GOLDBERG systems by Garage Envy is the place to start.
You've work hard to get to where you're at today. Talk to us to learn more about making your down time really enjoyable.
GOLDBERG skillfully and artfully tackles and accommodates those challenging storage dilemmas. We'll work closely with you to detail your needs and outline your wants. We'll then dovetail your requirements with a wide variety of attractive accessories that will shape your space to make it your own.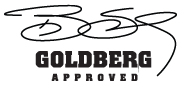 Here are just a few of the system modules to consider:
Tool box
Flat screen mounting system
Perforated wall panels for in-wall speakers
Wide variety of super durable and functional storage cabinets
Hanging devices for the cabinets and garage wall
Electric heater module
Sink module
Fridge module
Hose reel cabinet
Painted steel or stainless steel work surfaces
In wall kegerator
IPod Docking Station
Specialized Lighting Options